The written content you see on our site comes mainly from the guys below.  We have the odd article from a guest contributor, however these guys are on our regular staff writing team.  Like all of us at The Detroit Lions Podcast, they don't make a penny from anything we do – any clicks on sponsor links, T-shirt sales or Patreon donations get plowed straight into covering our costs –  everything you see from them is as a result of their hard work done purely out of their love for the game and the Detroit Lions.  If you're interested in contributing an occasional article or want to become a staff writer yourself, get in touch here!  Without further ado, let us present our writing corps…
Ash Thompson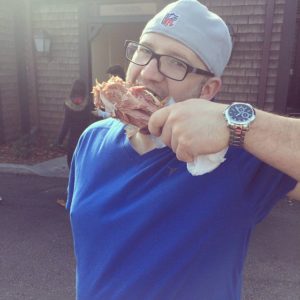 One of my best friends likes to introduce me with the following line: "This is my friend Ash; he's died twice." That seems like a decent starting point. He then walks away, leaving me to tell the stories of exactly how that happened because he's a jerk, and I am going to leave you wondering because I'm a jerk. That's probably the foundation of most of my long term friendships, which explains a lot about why I am a Lions fan. I mean it is not like the team has a record of positive emotional feedback to justify my relationship with it, and yet…..here I am pecking away at a keyboard, dedicating my free time to enriching the landscape of Detroit Lions coverage with my folksy wisdom, and occasionally debunking the myth that Canadians are nice by repeatedly talking over someone on the podcast. This year I crossed the barrier of 1500 NFL games watched on TV, I did the math a few years ago and have kept a running total. I am not studying journalism, but trying to become a teacher. So far I have written articles for the site on two different continents and am looking to add a third in the summer of 2016.
Brandon Knapp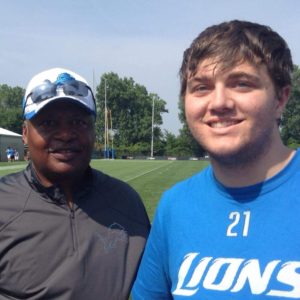 I am a senior at Central Michigan University, majoring in Journalism and minoring in Sports Management. I am from a small town called Marysville, MI. I have been a Lions fan since 2008 and always will be. My favorite Lion is Golden Tate. Also, I am a HUGE Michigan football and Detroit Red Wings fan. I am also known as "Brandon the Intern" and am gaining credit for my field study on DetroitLionsPodcast.com.  You can find me on the live post game podcast as well as in many articles on the site. Follow me on Twitter @BKnappBlogs to see what I am up to and what new articles I am writing. I've always got something new and exciting going on.
Adam Klepp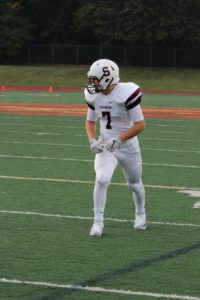 I'm a young Lions fan who still hasn't been deterred despite many years of pain. I love the team, a love that my father passed down to me and one I hope to pass on to one of my own children someday. I graduated from high school in 2016 and began attending my freshman year of college in the fall of 2016. I will continue to develop my writing skills on DetroitLionsPodcast.com on my way to a degree in Journalism. Being a long time Redditor, huge Lions fan, and aspiring journalist makes this an ideal situation for me to share Lions news and views with our audience as I hone my craft. Feel free to contact me on Reddit or via Twitter, I'm always up to talk Lions, and would be happy to hear your opinions along the way. Its a great time to be a Lions fan, so buckle up for what is sure to be a great ride. Go Lions!
 Nathan Cheatham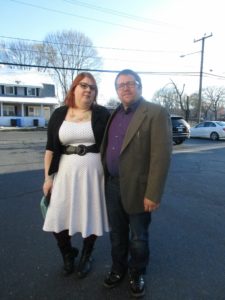 Nathan Cheatham grew up in downriver Detroit, and after much traveling, he landed in Hartford, CT. A journalism major, he has been writing news for various outlets over the past four years and even helped start an independent print newspaper serving his local area. You can see examples of his work on Facebook and contact him via Twitter. A newer football fan, Cheatham became a Detroit Lions fan very soon after the 0-16 season. Nathan is also an avid Fantasy Football enthusiast, he has been running his own Fantasy Football League for nearly 10 years. He is the presiding commissioner over the current DetroitLionsPodcast.com Fantasy Football Leagues. Regardless of what some might say, he is convinced that the Lions will have Super Bowl Victory next year (every year)!
 Adam Ostermeier
From Toronto Canada, Adam became a fan at the start of the Stafford era in 2009 and has somehow managed to become an even bigger fan since. He pulls from a broad range of sports knowledge and experience to offer interesting thoughts, and doesn't mind throwing out a hot take to stir the pot every now and then. While he enjoys occasionally sipping the blue Kool-Aid he typically brings a level of impartiality that gives the reader a thorough, fair analysis of whatever is being discussed. When not getting blocked by the occasional pretentious national writer on twitter, harassing over confident Vikings fans, or dreaming of playing cornhole with Chris Wessling on Tybee, Adam enjoys playing hockey and golf, reading dry political theory, and endlessly watching The Office. He has a six pack at the ready every game day not because he wants to, but because he has to due to this sadistic roller coaster of a team that is the Lions.
Cory Hayes
I attend Central Michigan University, I am majoring in Journalism and minoring in Sport Management. I am a junior, originally from from Marysville, MI. I love following sports, both professional and collegiate. I follow the Lions, Pistons, and Tigers very closely, and the college team that I choose to cheer for is Ohio State.